You have Free Access to great curriculum for your small group or individual study. Selections for your whole family on your tv, laptop, phone & tablet.
Text: RightNow FUMCLV to 41411
Propel Women Lawrenceville
Propel Women meets to equip women in leadership, encourage women to pursue their God-given dreams, and empower women to have impact in their areas of influence. It is a great night out with dinner, music, guest speaker, video curriculum and conversation topics around the table! We meet in the Family Center at LV|first (395 W. Crogan St. Lawrenceville 30046).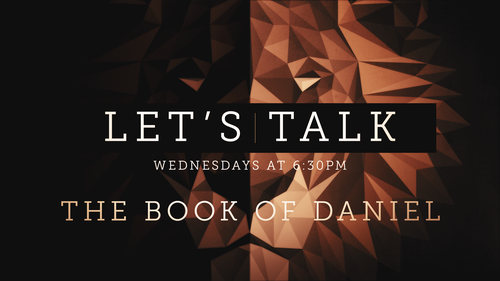 Let's Talk: Wednesday Nights in the Gibson Hall
We will start back with "Let's Talk" on January 12, 2022.
Pastor Adam will be leading us in an informal and interactive conversation based on his sermon series for January, The Book of Daniel. Listen to the sermon then bring your questions and your thoughts and Let's Talk!

All are invited to join the conversations, 6:30-7:30pm in the Gibson Hall. From the back parking lot, take the breeze way elevator to the 3rd floor.
SIDE BY SIDE DISCIPLESHIP
An Alongsider relationship is essential discipleship that is intentional and transparent in which we walk alongside others to encourage, equip and challenge one another to grow toward maturity in Christ. It's two companions on a journey together. An Alongsider is trained, supported and given tools to create a life-on-life relationship, meeting weekly or bi-weekly with one another.
"Now this means that when we come together and are side by side, something wonderful will be released. We can expect to be co-encouraged and co-comforted by each other's faith." Romans 1:12 (tpt)
An Alongsider shares the things they've learned and helps others learn along with them. God doesn't expect us to have all the answers, but He does ask us to disciple by pointing people to Himself. "As you are going, invite others to learn with you." Someone To Walk With
"We were glad to share God's good news with you but also our very lives because we cared for you so much."
1Thes 2:8 CEB
B.L.E.S.S.B
egin with Prayer
L
isten with Care
E
xperience the Bible Together
S
hare your Story
S
tay Connected
For more information, please contact
Cindy Walters
,
770-963-0386 x116 or cwalters@fumclv.org
Get Connected. Go Deeper.
Small Groups are typically made up of 6-10 people meeting weekly or biweekly. Groups build intentional relationships with others who are seeking to connect and grow with God. We have groups for men, women, mixed, couples and young adults. Meetings are held on Zoom, at the church, in homes or in the community.
Short Term Topical Studies are offered throughout the year mid-week and/or Sunday afternoons. Classes meet either online or face to face at the church (following social distancing guidelines). Studies for the new year will be announced soon.
These small groups, called Circles, typically meet at the church on different days/times once a month.
For more information or assistance in finding a Circle please contact
Cindy Walters
, 770-963-0386 x116.
Our Men's Ministry is a supportive fellowship of men who seek to know Jesus Christ, to grow spiritually and seek His will. This ministry welcomes all men to get involved by participating in small groups, monthly dinner meetings, and retreats.